ACEI is delighted to congratulate 2018 European CEO Award winners ACEI President Ciarán Kennedy, CEO Barrett Mahony Consulting Engineers and ACEI Vice-President Gerry Carty, CEO RPS. Ciarán and Gerry were presented with their awards at the European CEO Awards Dinner in Grace Hall, Leadenhall Street, London on 5 November 2018.
Both Ciarán and Gerry have contributed strongly to the wider Irish consulting engineering sector including leadership roles in ACEI over many years. They are warmly congratulated on their well-deserved European CEO Awards by the ACEI Executive, the Secretariat and all member firms.
Citations read out on the night by Hannah Vickers, CEO ACE UK included:

'Ciarán Kennedy became CEO of Barrett Mahony in 2016 and under his leadership the firm demonstrated excellent achievements in improving finances and substantially increasing employee numbers after a difficult recessionary period. These were undertaken by Ciarán's successful establishment of a programme of sustainable, strong and focused growth including the implementation of smart technologies and BIM to assist in project delivery outcomes.'
'Gerry Carty has demonstrated strong leadership in RPS to rebuild the firm following a period of low growth. He reorganised the business to achieve key objectives and transformed the project delivery process. Gerry also provided a strong commitment to work-life balance for employees and prioritised investment in employee development and training and associated HR systems.'

Further information on the recipients of this year's European CEO Awards is available here.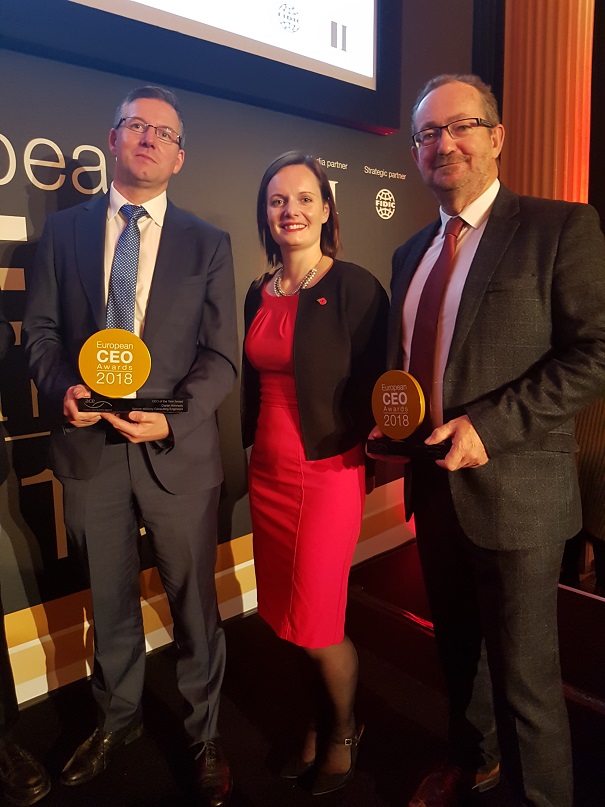 ACEI President Ciarán Kennedy, CEO Barrett Mahony Consulting Engineers; Hannah Vickers CEO ACE UK;
ACEI Vice-President Gerry Carty, CEO RPS at the European CEO Awards 2018


Ciarán Kennedy and Gerry Carty with all the European CEO Award winners

Gerry Carty, Sarah Ingle and Ciarán Kennedy at the 2018 European CEO Awards, London