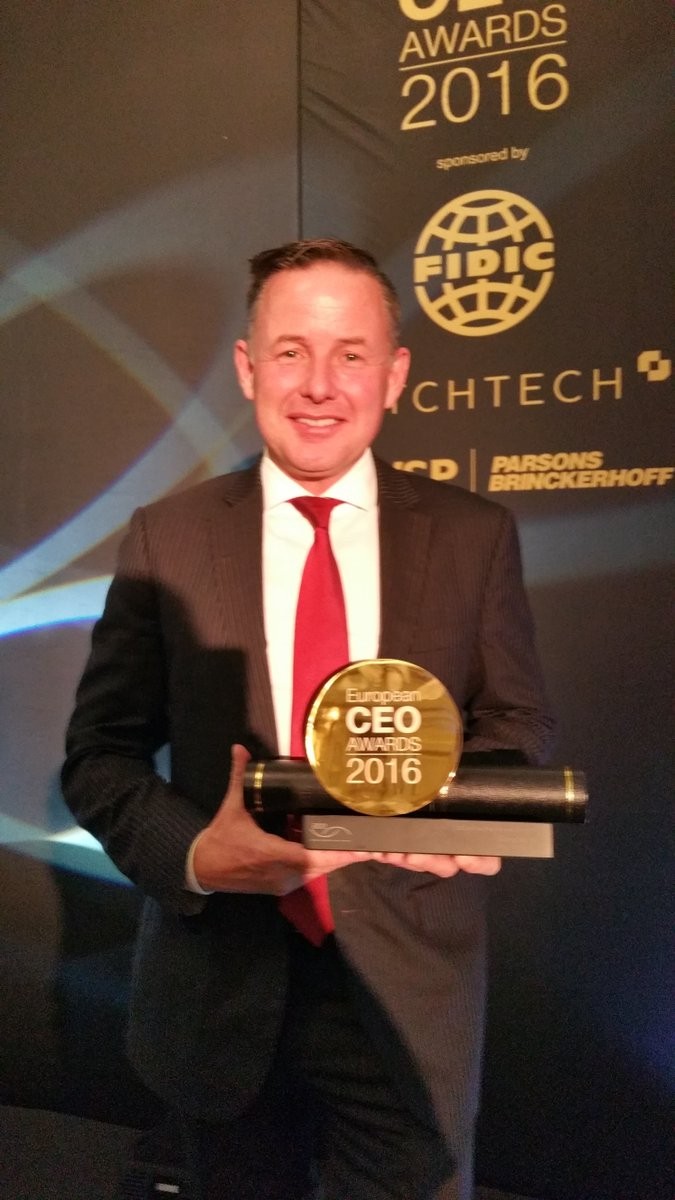 Last night in the prestigious One Great George Street venue in London's Westminster, Greg Hayden, CEO of Ethos Engineering was presented with the European CEO Award - Small Firm Category. Read more about the 2016 European CEO Awards here.

ACEI congratulates Greg on this great achievement which is well deserved. Greg is a strong contributor to the profession at a national level and is currently the Honorary Treasurer of Association of Consulting Engineers of Ireland (ACEI) as well as a member of ACEI's Executive Board. He also is a member of Engineers Ireland's interview panel for chartered engineer status.

Greg is the founding Managing Director of Ethos Engineering, one of the most highly regarded engineering consultancy firms in Ireland. Since Ethos began operations over eleven years ago it has completed an impressive list of projects including over 500MW of data space, 3000 healthcare beds, 30 operating theatres, 25 Linac bunkers, 5,000,000 ft2 of office space, 1000 students beds, 2000 dwellings and 1100 prison cells.


Ethos has now over 75 staff in its M&E consultancy, recruitment and FM consultancy businesses. The Ethos vision for the future is to be a firm where people compete to be employed. To this end Ethos is creating an environment of high achievers where mentoring, continuing professional development, clear communications, hard work, fun and fitness are part of everyday life.
Ethos
under Greg's Leadership has received recent, extensive external recognition. The firm was the winner of the 'Fit out Professional Consultancy' in 2014; Winner of the Irish Construction Industry Awards 'Consultancy of the Year' in 2015 and retaining it in 2016; Winner of the CIBSE 'Employee of the Year' 2015; and it has also featured in the Irish Times, Sunday Independent and on AL Jazeera UK TV.


Greg is a Chartered Engineer with both the Irish accreditation body Engineers Ireland and the Chartered Institute of Building Services Engineers (CIBSE). His academic qualifications include: an honours degree in Building Services & Energy Engineering in Southbank University London; an MBA in University College Dublin; Pharmaceutical Engineering Advanced Training in the University of Manchester and is one of only a few people in Ireland who is an Accredited Tier Designer with the Uptime Institute. Greg is also a founder member of the Irish Green Building Council as well as a founder member of a European M&E network set up to shares ideas and best practice in design across Europe. This network now has twelve members from different countries with over 2300 employees.

Greg has 30 years' experience working in the construction industry starting as a trainee design and commissioning engineer in Dublin. He led a commissioning unit for Kentz and worked on Hotel Art in Barcelona which was built for the 1992 Olympics. In 1994 Greg set-up a commissioning company with two other partners. Greg then moved to the Building Services Research & Information Association (BSRIA) and contributed to a number of building services guidance publications (BSRIA – Value Engineering, Prefabrication & Pre-assembly and CIBSE A6 internal heat gain guide). Greg returned to M&E consultancy in Dublin in 1997 and became Managing Director of the Building Services division of a large multidisciplinary consultancy leading 320 staff.

In 2005 Greg founded his own building services consultancy Ethos Engineering. After three years of success the Irish industry collapsed and Greg acted swiftly to ensure the company's survival. Greg was selected by Enterprise Ireland to take part in their Leadership for Growth programme. Through the programme Greg developed a five year strategic plan which set ambitious targets of 500% growth in headcount and turnover which were achieved within four years.